Alterations and Tailoring Service in La Canada Flintridge
Looking for Alterations and Tailoring Service in La Canada Flintridge?  Are you in need of some Alterations and Tailoring Service in La Canada Flintridge?  Look no further we offer great alternations and tailoring service. We know how hard it is to find clothing that fits your body type. We can get everything fitting properly and with ease.  Properly fitted clothing makes one feel better and look better. Out tailor is on staff right here, so your clothing doesn't leave our site.  We offer mending and hemming and a variety of alterations and tailoring services.
From Jeans to Wedding Gowns – Alterations and Tailoring Service
We are an all in one tailoring shop making any alterations to ensure the best fit.  We have worked with simple things like hemming of pants to extravagant wedding gown tailoring.  If you purchased pants that are just too long, we can help. Or if you need a complete overhaul of a wedding gown, that works as well.  We are experienced at tailoring your clothing in a fashion that will look great and on budget. Don't look a mess but liven up your look with a great fit.  
We also offer suit tailoring.  As some companies offer suit tailoring but it most likely is off-site and will have to be sent out. We can do that right here, on-site and with confidence.  Men's suits are almost always in need of tailoring. We will measure you up and make your suit fit perfectly for your body type. Tailoring a suit is a must in order to have the clean and put together look.  Our expert eyes can adjust your suit to look great on your body type. This is an art as everyone has a bit of a different shape and everything fits a bit differently.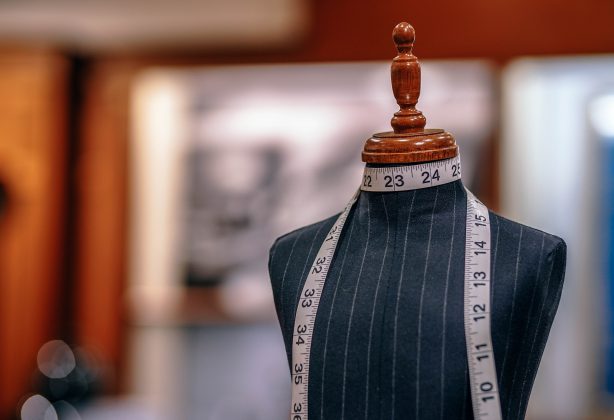 On-premise Alterations & Tailoring Service
When looking for clothing and trying on ready-made wear, you should find what fits the largest area of the body.  Everything from that point can be made to fit with a bit of Tailoring. Don't look at the clothing size, but look at what fits.  All woman want a nice curve at the waist, but don't squeeze the bust into something that will make that look. Buy it slightly bigger if need be and have the shirt altered to fit your body type best.  
For pants, have them fit the widest part, which would be through the hips. We can shrink the waist and even the legs in to meet your body shape.  But, we cannot add material to make things wider. Buy for the largest or widest area, no matter the size. Remember the size will be your size when you are done. 
Alterations is a fine way to make you look great without breaking the bank.  The ready-made clothing wasn't made to fit everyone. Back in the day, when ready-made clothing first started that altered everything.  Over time fewer people have learned to sew and lose clothing has emerged. But, a fine tailored suit or outfit surely to make you stand out and look very put together and professional.